Berlin is unlike anywhere I have ever been. It is a city with a very long history, that feels like a teenager coming into its own. It has a dark past, of which you are reminded throughout, but a vibrant and exciting present. Being in Berlin was extremely strange for me, sometimes a bit of a rollercoaster of emotions, but it was ultimately a great city to visit. There is no shortage of things to do, from historic sites and museums, to wandering cool neighborhoods, and hanging out in beer gardens and cafes.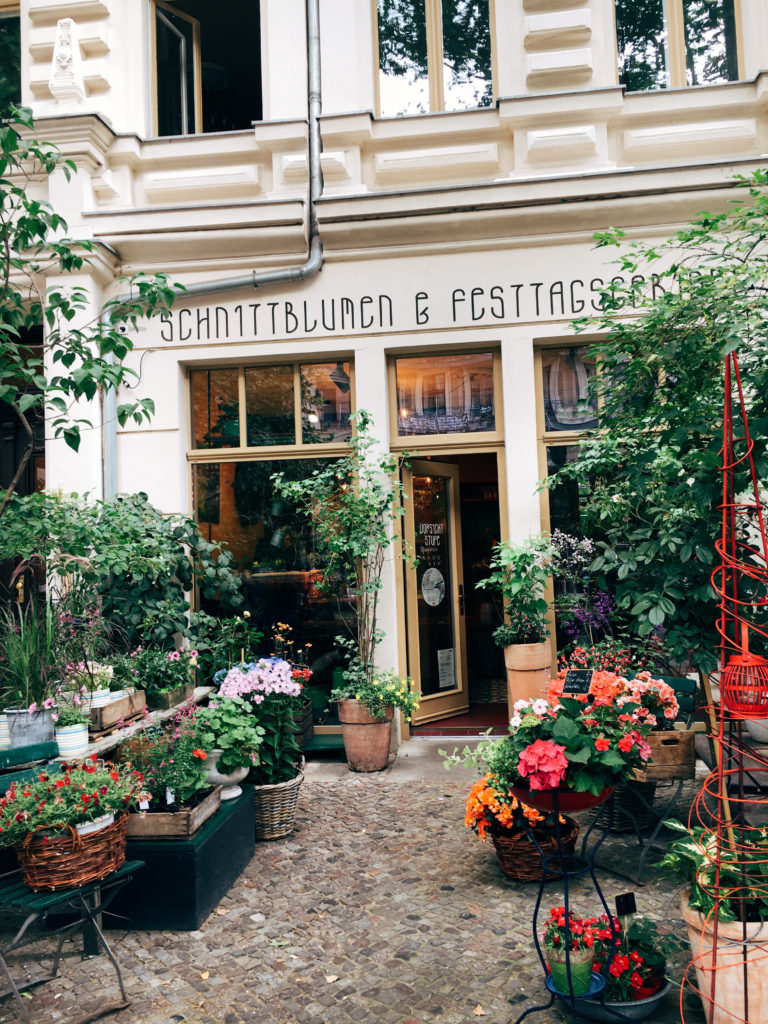 EATS & DRINKS
Prater Garten: Having a drink at a beer garden is a must-do Berlin activity.
Godshot: A neighborhood cafe with nice drinks, cool ambience and great pastries.
The Barn: The best coffee of the trip, and delicious treats (I had a peanut butter and jam cookie sandwich) but loses points in my books for having a "no stroller" policy.
Bonanza: Another amazing coffee place – went here twice!
Roamers: A bizarre and wonderful brunch spot in Neuköllen with amazing food, fresh juices and coffee, and a very cozy ambience, surrounded by succulents. This place is more California than any place I've been to in California.
No Fire No Glory – Another excellent third wave cafe.
Burgermeister: Great burgers served out of a former public bathroom. Best consumed with a spezi – a mix between fanta and cola.
Kuchi: Excellent sushi. They also have a ramen place next door which we wanted to check out (it was just too hot), Cocolo Ramen
Distrikt Coffee: A great brunch and coffee spot. I had the avocado toast, Joe had the granola, and we shared the banana bread.
Markthalle Neun : don't miss Street Food Thursdays, a fantastic array of global foods. I had amazing (vegan) Vietnamese food!

SITES
New Berlin Walking Tours: not a site but a collection of. We did the donation-based (free) walking tour and it was a good foundation for the city
Memorial to the Murdered Jews of Europe: not to be missed.
East Gallery: Take a nice long stroll along one of the largest pieces of the wall, covered in pieces from artists from around the world.
Jewish Museum: This was Joe's highlight of the trip. One of the rare museums where the architecture of the building works in service of the experience. Designed by Daniel Libeskind, it traces the history of German Jews from their arrival, up to present day.
Kreuzberg street art: Take  a wander around hipster-y Kreuzberg, filled with some great street art.
Templehof Feld: East Berlin's former airport, is now an amazing public park! Enjoy a cold drink and watch the sun go down with some friends, like we did.
Reichstag dome: Book this in advance (it's free!) and get a beautiful view of Berlin from the top of the German parliament.
Hamburger Banhof: A very pretty contemporary art gallery in an old train station. Only go though if you're interested in what's showing at the time- we saw this incredible video exhibit.
Flohmarkt im Mauerpark: A fun (albeit slightly overwhelming) Sunday flea market.
Explore neighborhoods: East Berlin is where it's at, and there's lots to see and do. We loved walking around Mitte, Prenzlauer Berg (where we stayed) and Kreuzberg.
GOOD TO KNOW
Berlin is very big: pace yourself! But the transit system is excellent. We recommend buying an unlimited pass.
We became obssessed with fancy soda – particularly a local German brand called Fritz Kola
The food in Berlin is ok, but not great. The coffee and beer however, is excellent!
Watch for Stolperstein or stumbling stones – these plaques commemorate the victims of the Holocaust outside the homes in which they lived. It is a sobering reminder of what happened all around you.