Happy New Year! I guess I'm a little late on the new year game. Did you set any resolutions or intentions? In 2019 I'm really challenging myself to limit how much food I throw out at the end of the week. And I'm doing this by going back to the way I learned to cook: with what I have in my fridge.
I love cooking with what's in my fridge (and pantry) because it feels like a weird episode of Chopped, where the ingredients are just what I have on hand. I often do this by having a few recipe 'templates' of sorts, that allow me to switch out what vegetables I'm using based on what I have on hand. So I know I can roast most vegetables at a high heat, combine with a protein and a tahini sauce, and some grain, and voila, a bowl. Or I can stuff roasted or sautéed vegetables and beans in tortillas, cover in sauce and cheese, and bake, and that's enchiladas. And this recipe for fried rice is one of those. It's a great way to use up those kind of sad veggies at the bottom of your crisper, or the broccoli stems you promised you wouldn't waste (just peel off the outside and the inside is nice and tender). And it's damn tasty, and incredibly filling. It can act as a side dish, or a full meal,
If reducing the amount of food you throw out (for the environment, or for your wallet) is something you'd like to do, might I humbly suggest you start here. And then think about the clever ways you can come up with to reimagine whats in your fridge – I swear, it's fun.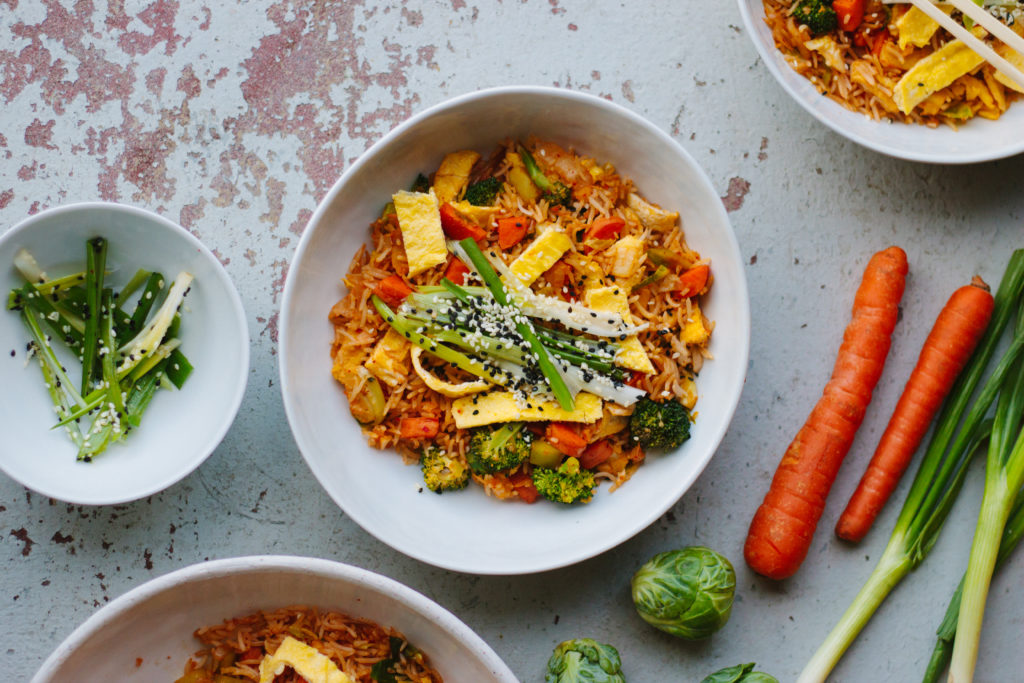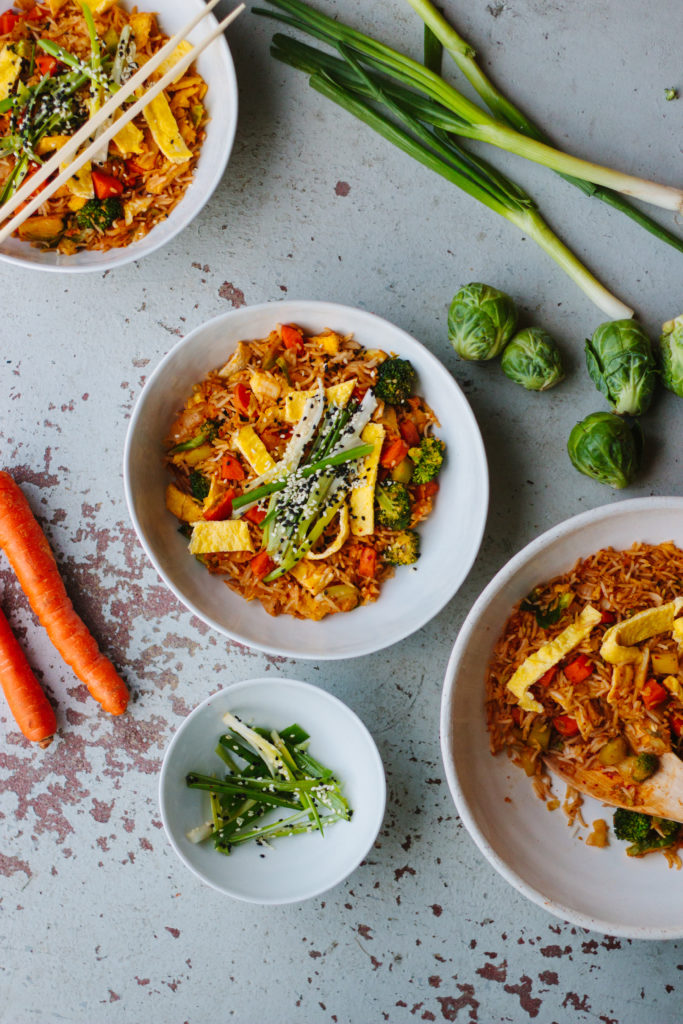 kimchi and vegetable fried rice 
Adapted from one of my favourite cookbooks, Small Victories by Julia Turshen.
Serves 2-3 as a main course or 4-5 as a side
If you have lots of leftover cooked veggies already, just skip step 4, and add the 2 cups of vegetables when you add the rice. If you're vegan, just skip the eggs and use vegan kimchi!
Grapeseed oil (or your other preferred high-heat cooking oil)
3 eggs
2-3 cups leftover cooked rice (any kind you like)
½ cup kimchi, liquid well drained (i use a colander and paper towel) and reserved, remainder chopped finely.
2 cups of finely chopped vegetables (I used broccoli, broccoli stems, carrots and brussels sprouts)
1 onion, chopped
2 garlic cloves, minced
2 tablespoons soy sauce
6 scallions
1 teaspoon toasted sesame seeds ( I used a mix of white and black)
1 teaspoon sesame oil
1 teaspoon rice vinegar + more to taste
Make scallion topping: Remove roots from scallions, slice width-wise into 2 inch pieces, and then length wise twice into long, thin matchsticks. Combine in a bowl with sesame seeds, sesame oil and rice vinegar. Set aside.
Cook the eggs: crack eggs in a bowl, add a splash of water and salt and pepper and whisk until well combined. Heat a splash of grapeseed oil in a large non stick skillet over medium heat. Once pan is hot, pour in eggs and swirl to fill the pan completely (like you're making an omelette). Once it's looking mostly cooked through, use a spatula to flip it over (if it breaks while doing this, don't stress, you'll be cutting it up later anyways.) Cook for a few minutes until cooked through, then remove to your cutting board. Slice into thin strips, and slice in half, so they're a couple inches long.
Add another tablespoon of grapeseed oil to the pan. Once hot add the onions and cook for 5 minutes or so until translucent.
Add the 2 cups of vegetables and a big splash of water, cover and let veggies steam for 5 minutes. Remove lid, vegetables should be cooked through.
Turn up heat to medium high, and add garlic. Sauté until fragrant, and most of the water has evaporated. Add the kimchi and sauté until it's starting to stick to the pan.
Add the rice, kimchi liquid and soy sauce. Sauté until the rice is warmed through and thoroughly coated, breaking up with your spoon. Drizzle with rice vinegar to taste. Stir in the egg strips. 
Divide into bowls and top with scallion mixture.